The Aptana Studio installation directory
How to find the installation directory of Aptana Studio on Windows.
669 views

Edited: 2016-07-29 11:39
A problem with Aptana Studio is that the installation location is non-standard. Instead of just installing in the program files folders in Windows, it tends to install in the user directory, using weirdly named parent directories.
You may have deleted the shortcut for Aptana, thinking that you did not really need it, only to find that Aptana Studio does not show up in "Search Windows". A lot of advanced users are using "Search Windows" to quickly launch programs, without the need to clutter the desktop with countless of shortcuts.
One last-way to get the shortcut back, can be to repair the installation, but you should first try to locate Aptana to see if you can find the program file.
Aptana Studio installation directory
Aptana Studio is known to install to the following locations:

C:\Users\Default\AppData\Local\Aptana Studio 3
C:\Users\[Your user name]\AppData\Roaming\Appcelerator\Aptana Studio

Note that Appcelerator is the name of the developer. The practice of installing software in parent directories named as the company or developer is very old, but it still confuses even advanced PC users.
If Aptana is not found on these locations, try looking at the properties of the shortcut. I.e.: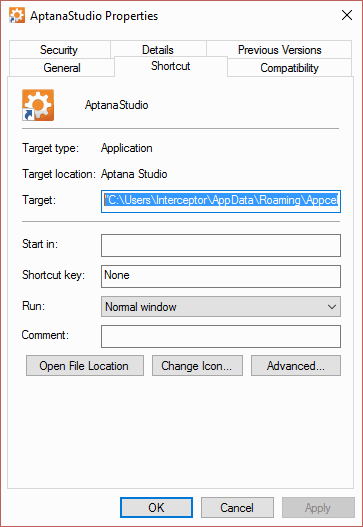 Create a shortcut for Aptana Studio
If you are missing the shortcut for Aptana you can create a shortcut by dragging the program file to your desktop while holding down the alt key. This should create a new shortcut on your desktop. Shortcuts are also known as "links" in Windows.