The warning about Lumia phones
Lumia phones tend to break and crash a lot, and Instagram still does not work.
620 views
Edited: 2017-01-23 23:33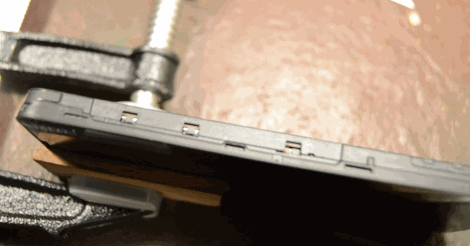 The photo shows a Lumia 635 with a broken power button, which marked the end of the life for this device. Be warned!
Do not get me wrong, i love the Windows system on Lumias. However, there are just too many issues with these phones preventing a smooth experience. In my mind, even a single crash is one too many, but the Lumia 635 that I had, basically crashed all the time.
Instagram would consistently crash again, and again. This seems to be a problem with Instagram, and not the phone itself. Aside from the crashing, it also was not possible to upload videos on Instagram.
I tried solving the problem by installing Windows 10 via the Windows insider program, but that just made the crashing even worse, to the point where the phone was becoming unusable. So i ended up reverting back to Windows Phone 8.1. Upgrading to windows 10 also did not make any difference in regards to Instagram, which would just crash when uploading videos. This, combined with the stability issues, made me revert to Windows Phone 8.1.
Fundamental design flaw
Lumia phones are apparently notorious for having very poor quality buttons. The buttons located on the side on the phone are very sensitive to shock and touch, and there are even reports of them breaking doing normal use. This is simply unacceptable for a phone.
Admittedly I did drop my phone, just once. It fell down from a bed, which is about 20cm. Just a small accident like this was, unfortunately, is more than enough to break loose the power button.
It is almost unavoidable that you will somehow cause minor shocks to your phone doing it's lifetime. Generally, mobile devices should be able to handle most shocks – without breaking! The buttons on Lumia phones seem to be way more sensitive then on most other phones, and even small shocks – possible even normal use – can break the buttons fairly easily.
Conclusion
A lot of my friends tend to break the display on their phones all the time. So far I have never personally broken a phone before, as i am extremely careful, however, with the Lumia i guess everyone can break something.
This marks the end of my Windows Phone adventure, for now at least. Those who are considering buying a Lumia, should be aware that most of them seem to share this design flaw with the buttons, so you should Google your version followed by "button stoped working".
Instagram also still does not work, not even in Windows 10 apparently. The Phone also tends to crash a lot. Maybe this was caused by the 512 mb memory of the lumia 635, but even still, Facebook and Instagram should not crash, so it is more likely a problem with the apps or the phone. But if you are into gaming or something heavy, then you should go for more memory.
When i googled this problem with the buttons breaking, it seems most lumias are actually affected. From 520 to the higher models such as 928, 1020. I think Microsoft should recognize that there is a problem, and it is not the users own fault. What to do? Well, offering free phone repairs is the least they can do. But i have also found reports about buttons breaking after being repaired, so maybe they should just ditch the lumia design, and make a more robust phone.